With name bars alone, Penticton Vees would be strong contenders for the Stanley Cup in the 1990s.
Nieuwendyk.
Niedermayer.
Richter.
Arnott.
In hockey circles, those are some hallowed names on the jersey backs of the league-leading Vees, here Friday (Feb. 3) to play Surrey Eagles in a big BCHL game at South Surrey Arena, 7 p.m. start.
Jackson Nieuwendyk is the son of Joe, Joshua Niedermayer's dad is Scott and Beanie Richter celebrates Father's Day with Mike, while Callum Arnott calls Jason uncle.
"I think there's eight Stanley Cups among those dads," said Vees coach Fred Harbinson, not counting the one for Arnott.
"We've had tons of players' sons on our team over the years — not by design, it just worked out that way," added the longtime coach, looking to guide Penticton to a second straight Fred Page Cup as BCHL champions.
The Eagles, too, are pushing for the Cup with the help of defenseman Ross Roloson, son of former NHL goaltender Dwayne.
Coach Cam Keith raves about the Minnesota-born Roloson, who turned 20 on Monday (Jan. 30) and solidified the Eagles' blueline this season with efficient breakouts and elusive skating, following a trade with Powell River Kings in September.
"He's been great for us, does everything," Keith elaborated. "He came to our team as a first-year kid and earned assistant-captain out of training camp, voted by the players. It had nothing to do with his background or name, it's just the kind of kid he is. He comes to work every single day, is the first on the ice, last off, and works as hard defending as much as he tries to create offense."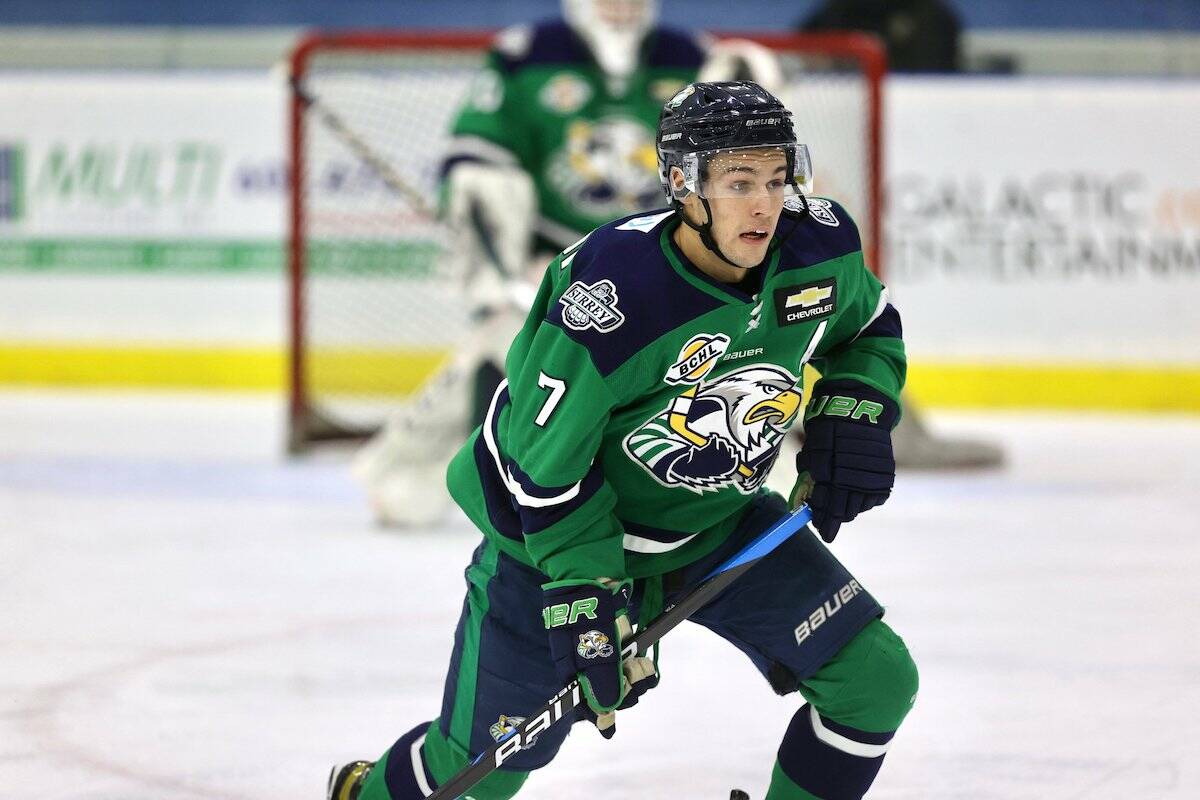 The Eagles face the Vees after a weekend split of games, a 4-1 loss in Chilliwack on Saturday and 5-0 shutout win over Cowichan Valley at home Sunday.
Surrey sits second in the Coastal division with 49 points, eight back of Nanaimo Clippers, while the Vees lead the BCHL with 68 points on 34 wins and just three losses so far.
On the scoresheet, Penticton is led by the Nadeau brothers Bradly and Josh, who've combined for 143 points this season after helping the Vees to the 2022 league title.
"We've been fortunate to have some solid teams over the years, and this one is a little different in the fact that we have so many returning players," said Harbinson, in his 16th season as Vees coach. "Usually our average is around six or seven returners, and this one has a lot of experience with 14 returning players from last year's championship team. Guys know the system."
Those guys include Nieuwendyk, Niedermayer, Richter and Arnott.
"The thing with the NHL kids is they've been around the game so much, for so many years," noted Harbinson. "Making the National Hockey League is almost like winning the lottery, it's so difficult, and I'm sure that these current players of mine got to see that in their fathers when they were young, being around the rink.
"For me," the coach added, "what was cool last year was seeing the reaction of a Mike Richter, a Scott Niedermayer, Joe Nieuwendyk, these guys who won Stanley Cups, to see their emotions of seeing their sons win a junior championship, which are hard to win. It was outstanding to see how much it meant to their families."
The Eagles hope to have that winning feeling this spring.
"This is kind of our year to go for it," Keith said, "with (Cole) Galata here, (Jake) Bongo and (Jacob) Bonkowski, those guys, and (Tate) Taylor and Roloson, too. We're kind of focused on making a run at a championship this year. The team's pretty hungry to be in a good position for playoffs."
---

tom.zillich@surreynowleader.com
Like us on Facebook Follow us on Instagram and follow Tom on Twitter