The City of Surrey and Surrey Board of Trade have weighed in with their requests in advance of the 2024 provincial budget, making submissions to the provincial government's Select Standing Committee on Finance and Government Services which will in turn forward its recommendations to the Legislative Assembly by August.
The deadline for pre-budget consultation submissions is June 16. According to a city corporate report Surrey council endorsed on June 5, Surrey's three recommendations are for the government to increase funding for school infrastructure here and make it "more predictable," to commit to increase funding for healthcare infrastructure in Surrey, and commit to increase funding for supportive and affordable housing here.
A report from Surrey's general manager of investment and intergovernmental relations Donna Jones and Kam Grewal, Surrey's general manager of finance, notes public school enrollment in the district is expected to grow to upwards of 91,000 by 2030. "Unfortunately, Surrey's school infrastructure is in a state of crisis," Jones and Grewal note.
Between 2002 and 2022, Surrey saw a 24 per cent increase in student enrollment but while student numbers grew exponentially, investment in school infrastructure didn't keep pace, "resulting in an ever‐increasing classroom space deficiency and a chronic reliance on hundreds of portable classrooms to bridge the gap."
On average, Surrey takes in 1,200 more new students each year. "To meet the classroom space needs of the new 1,200 students arriving each year alone would require two new elementary schools to be constructed every year. This would not address the growing deficiency of classroom space built up over the years.
"The current situation is not acceptable," Surrey's submission reads. " School infrastructure must be built as quickly as possible to catch up with current needs and, moving forward, schools must be built in lockstep with new housing to avoid an even more dire situation in the future."
Likewise, government investment in healthcare infrastructure here hasn't kept pace and Surrey remains "chronically under‐served.
"This has resulted in Surrey now facing a healthcare infrastructure crisis that has the potential to negatively impact the well‐being of every citizen of Surrey," the city's budgetary submission reads.
It notes that Surrey Memorial Hospital was built in 1959 when Surrey had less than 70,000 residents and the provincial government has not made "significant investments" since 2011, when the population was roughly 460,000 and construction began on an eight-storey critical care tower at SMH. The government in 2017 announced a second Surrey hospital will be built, to be located in Cloverdale, and re-announced it in 2019 but "unfortunately, ground has yet to be broken on this critically important project.
"Surrey is highly under served when it comes to healthcare and requires significantly more investment in all categories of healthcare infrastructure. It is well known that the Fraser Health Authority, which includes Surrey, does not receive a fair and proportionate share of provincial healthcare funding. This is simply unacceptable.
"The strain on Surrey Memorial Hospital has increased to the point that physicians and other healthcare professionals are speaking out on the serious staffing issues and the generally deficient conditions of Surrey's only hospital," the submission reads. "These healthcare challenges are untenable as the health and safety of our citizens are put at risk. Significant and timely investment is required to stabilize Surrey's healthcare infrastructure."
Moreover, Surrey's budgetary submission to the committee indicates "significant gaps" in the supply of rental housing for low‐ and moderate‐income households and to address its need for affordable rental housing, a Surrey Housing Needs Report reveals an "immediate need" for 17,900 below‐market units or subsidies and 11,000 more non‐market rental housing units will be needed up to 2031.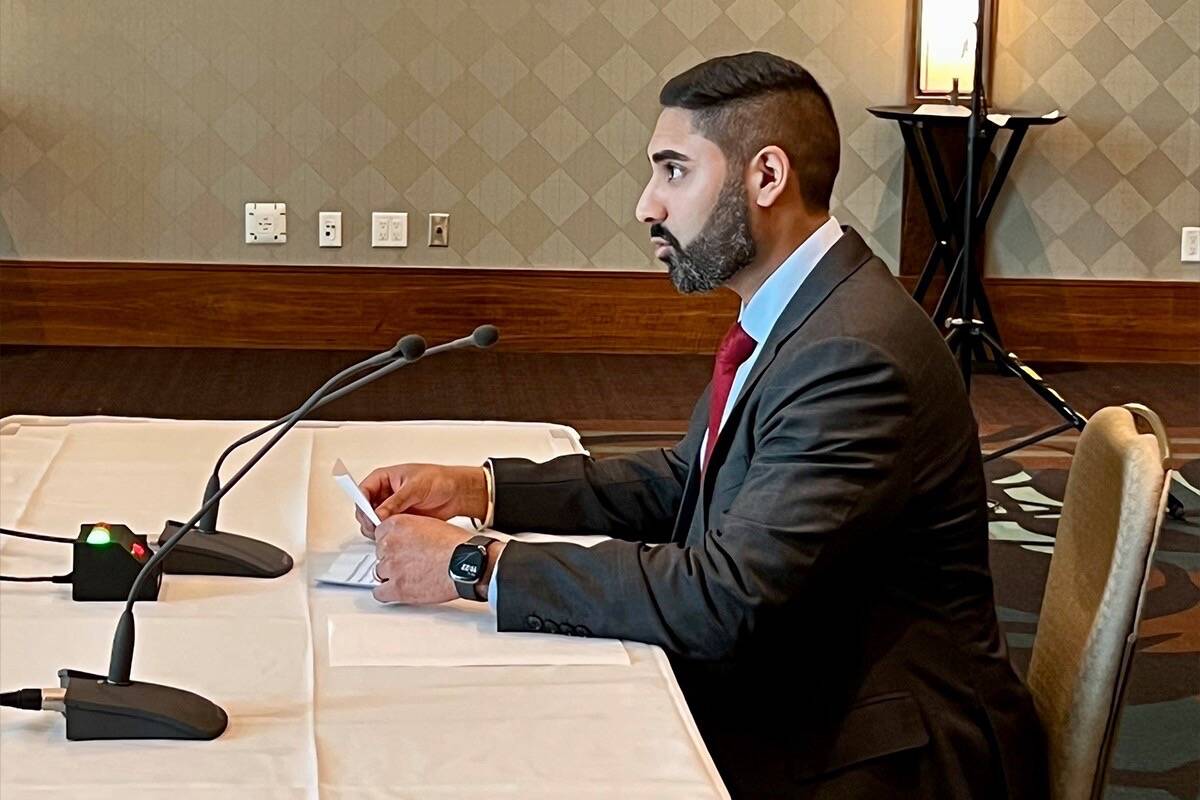 Meantime, the Surrey Board of Trade's policy and research manager, Jasroop Gosal, told the Select Standing Committee on Finance and Government Services that while Surrey's population has since 2016 grown by 9.7 per cent it continues to be the sole large Canadian city "without an emergency department funded to treat the three leading causes of sudden death: heart attack, stroke and trauma.
"These services are still only available north of the Fraser River," Gosal submitted. "As the B.C. government considers investments in healthcare, they should provide funding for both Surrey Memorial Hospital and the new Surrey hospital to ensure there are enough maternity beds, ER beds, pediatric beds, and that there is the ability for healthcare professionals to treat heart attack, stroke, and trauma."
The board also argued for a comprehensive tax review. "Now, we find ourselves buried in provincial debt, with rising inflation and an even higher cost of living. Without spending more, we must find ways to drive down the debt, and provide unique and innovative solutions to the skyrocketing cost of living. A comprehensive tax review could do that," the committee heard from the board of trade. "We need to determine what works and what doesn't."
It also maintains that the provincial government should commission a study and action plan for implementing electric vehicle battery recycling plants as well as increase the capacity of current plants.
---

tom.zytaruk@surreynowleader.com
Like us on Facebook Follow us on Instagram and follow Tom on Twitter