An explosion of South Asian sounds is happening in Surrey, home to events and festivals that showcase a growing scene for the music.
This week's 5X Fest events in Surrey and Vancouver will see people "walk through the portal into a world of South Asian creativity," for free and also for a fee.
The festival's high note is a popular Block Party at Surrey Civic Plaza on Saturday, June 17, where Babbulicious will headline a daylong, multi-artist concert that starts at 2 p.m.
Brampton's Babbulicious is known for the 2022 song "Gaddi Red Challenger," the lyrics and video for which shout-out Surrey as he "drives" around the world's biggest cities in a red muscle car, echoing the vibe of Martha & The Vandellas' mid-'60s hit, "Dancing in the Streets."
Organizers of the annual 5X Fest consider Surrey to be the global epicentre of South Asian diaspora music at the moment.
"In the '80s and '90s, the U.K. was the cultural centre for South Asian diaspora, in particular bhangra music," explained 5X event manager Harpreet (Harpo) Mander. "What many don't realize is that today Surrey is now that epicentre, and will go down in history as the home and birthplace of modern-day South Asian music, one with a more urban sound."
Surrey's internationally recognized South Asian music sector was noted in the recent Surrey Music Strategy, a 72-page report from city hall that charts strategies for the growth of the music industry here.
In Vancouver this week, Surrey-based event producers Happy Joshi and Ron Dhaliwal plan a new South Asian Family Festival for Vancouver's PNE grounds on Sunday, June 18. Earlier this spring they announced actor/singer Gippy Grewal as the headliner of the festival, with details on safvancouver.com.
Meantime, 5X Fest returns for a sixth year from June 11-18 with five diverse events focused on South Asian music, visual art, fashion, and culture.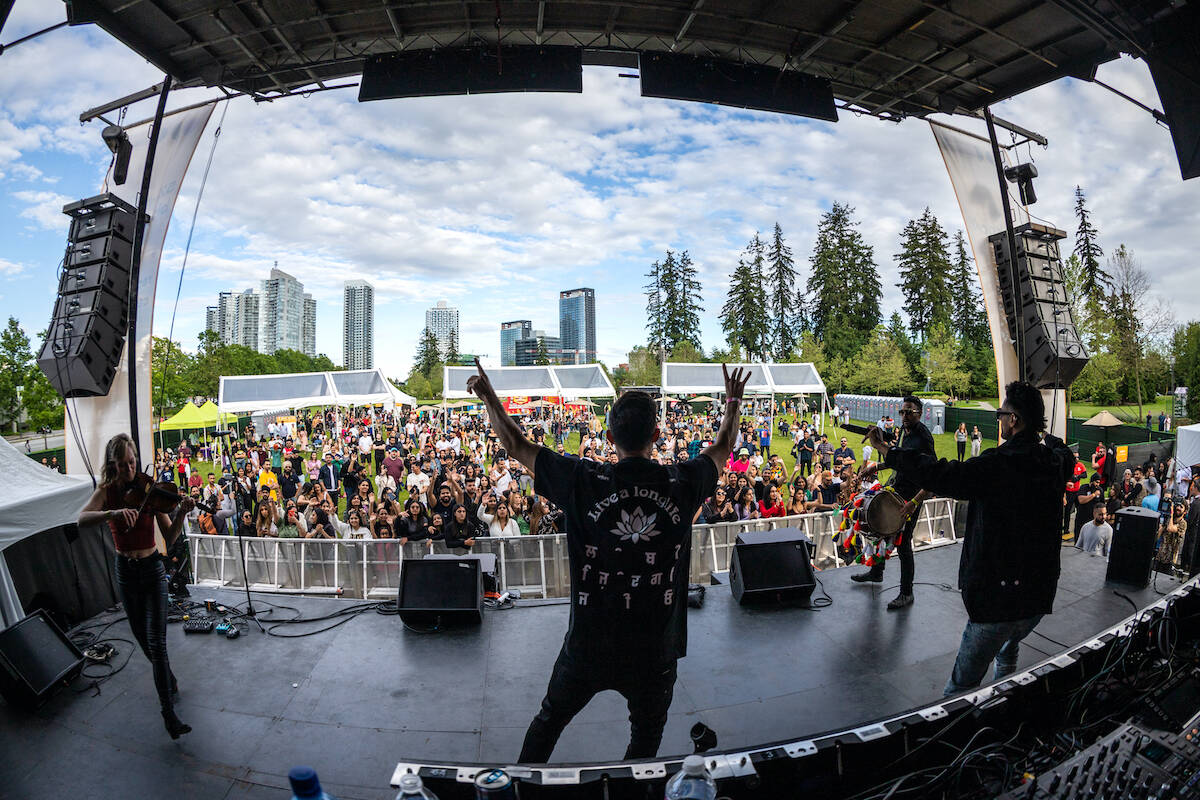 In recent years the 5X Block Party has presented artists who've gone on to the global stage and international festivals. This year's event features a long list of artists including Signature By SB, Bhalwaan, Inderpal Moga, KultarGotBounce, Shally, Peak and many others, detailed on 5xfest.com.
"It is clear that South Asian music is having its moment as Latin music and other diasporic genres have before," 5X's Mander said.
"Punjabi singer Diljit Dosanjh has been making history and leading the way as not only the first Indian artist to sell out Rogers Arena, but also as a headlining performer at Coachella. Many would be surprised to know that much of Diljit's last album was developed right here in Surrey."
The album was produced by Surrey native Intense (a 2021 5X headliner) with an intro produced by Modern Biology (Tarun Nayar's project). Intense has also produced music for many other big names including AP Dhillon, a rapper/singer born in India and since based in Victoria.
"Dosanjh's widely popular song 'Umbrella' was also written by Surrey based lyricist, Chani Nattan, a 2021 5X headlining artist, also produced by Intense, and the video production was done by local HzDz Visuals," Mander added.
"'Umbrella' surpassed five million views on YouTube in only its first two weeks. Nattan actually created the demo for this track with artist and friend Inderpal Moga, a 5X Blockparty headliner this year. Moga and Nattan also collaborated on the hugely popular track, 'Daku.'
"The connections and relationships between the artist community in Surrey run deep," Mander continued, "and their successes continue to reach new heights. With all this happening in our own backyard, it only makes sense that 5X host the essential South Asian festival and support a platform that showcases this talent."
"Enter the Portal" is the theme of this year's 5X Fest, which will see the debut of the 5X Art Party at Surrey Art Gallery on the festival's final day, June 18.
---

tom.zillich@surreynowleader.com
Like us on Facebook Follow us on Instagram and follow Tom on Twitter