With a name that salutes a family friend, events in Newton aim to encourage Surrey-area seniors to socialize with neighbours and participate in arts-related activities.
Launched last March and aimed at the 55-plus crowd, the Belinda's Connection Café workshops at Newton Cultural Centre (13530 72 Ave.) are curated by Lyn Verra-Lay through the Arts Council of Surrey.
Featuring a range of artsy subjects, the morning sessions are held on the last Thursday of the month from 10 a.m. to noon in the theatre space. Admission is free, and light refreshments are available.
Sessions have covered topics such as journaling, making fused-glass and dyed-silk pieces, 2-in-1 gameboards, even karaoke singing.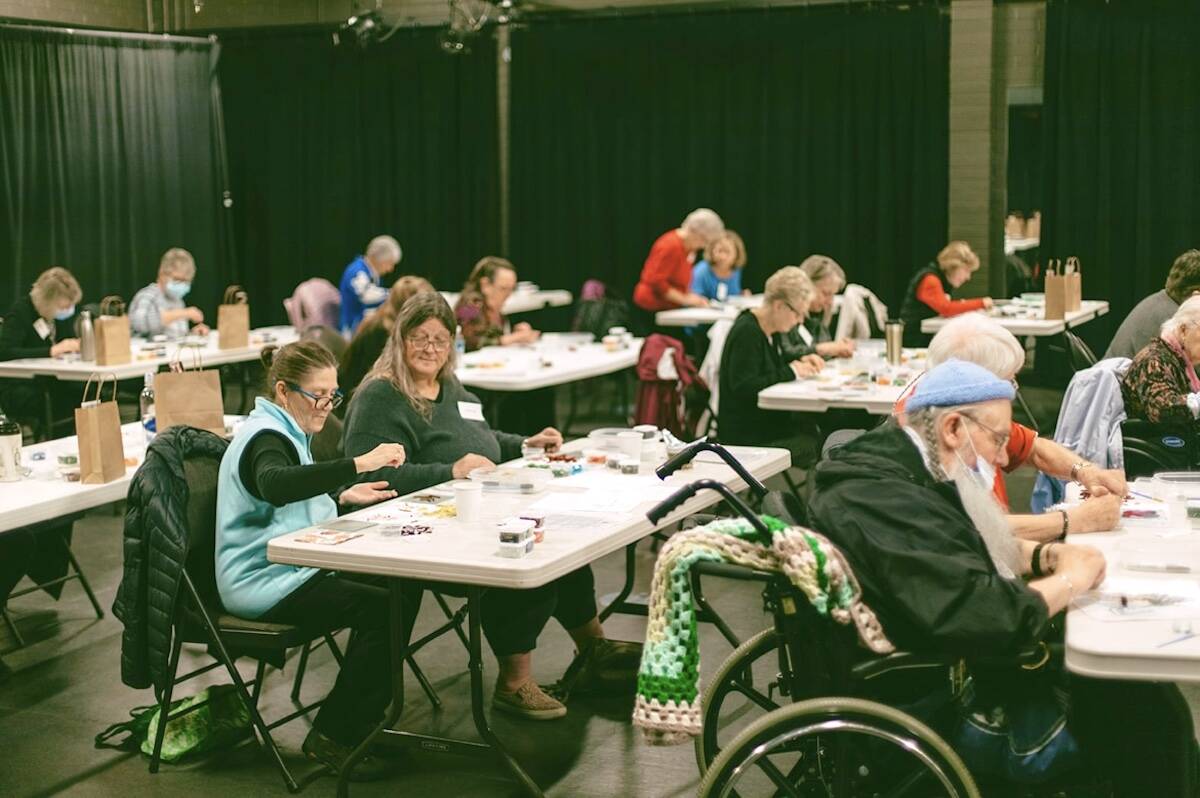 So far, the 2023 calendar includes six of the Café workshops, from January to June, with more possibly in the plans.
Last spring, Verra-Lay applied for a 'Local Love' grant through United Way in order to facilitate a way for 55-plus people in the Newton area to connect with each other through free, inclusive, arts-related workshops.
"I taught two of the workshops and brought in two arts colleagues plus Studio 73 to facilitate the other three," she explained.
"After the five initial workshops ended, the seniors asked if we could have more of the same, so I asked Carol Girardi if we could run them through the Arts Council of Surrey," Verra-Lay continued.
Girardi said yes, and Verra-Lay was made aware of grant funding through SISSIP (Surrey Intercultural Seniors Social Inclusion Partnership).
"We applied last summer and the Arts Council received funding to run nine more monthly Belinda's Connection Café workshops. We've already had three of the monthly sessions in the fall (September, October and November), with 25 participants in the November session."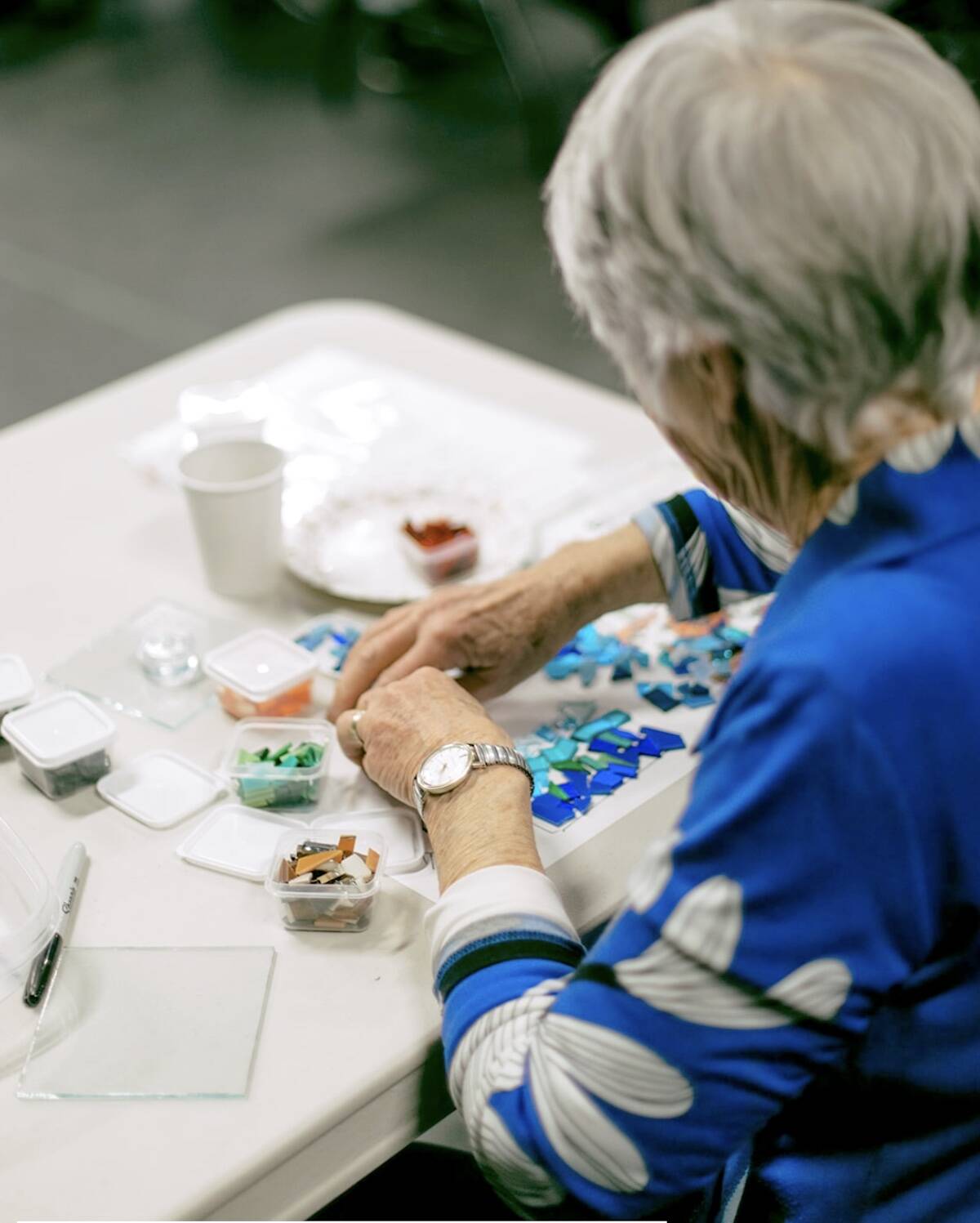 When a name was needed for the sessions, Verra-Lay chose to honour someone who'd hosted events that connected people in the community.
"We really liked Connection Café as the name, and then I was talking to a friend of mine and her mom, who'd died a year previous, her name just came into my head," Verra-Lay recalled. "Belinda (Dunne), she died two years ago now, and lived in Delta, and did similar things in the community to connect people – tea parties for seniors, things like that, and she was very community-minded, as is her whole family. She's an inspiration to me, so we named it after her."
Belinda's daughter, Lorraine, hosted a journaling workshop in one Café event last year, and her son Rob hosted a karaoke session.
"Belinda's husband Mike has attended pretty much every one of the workshops, too," Verra-Lay added. "The three of them and another sibling I hadn't met, they took me for lunch because they were so touched by having Belinda's name as the title of this event."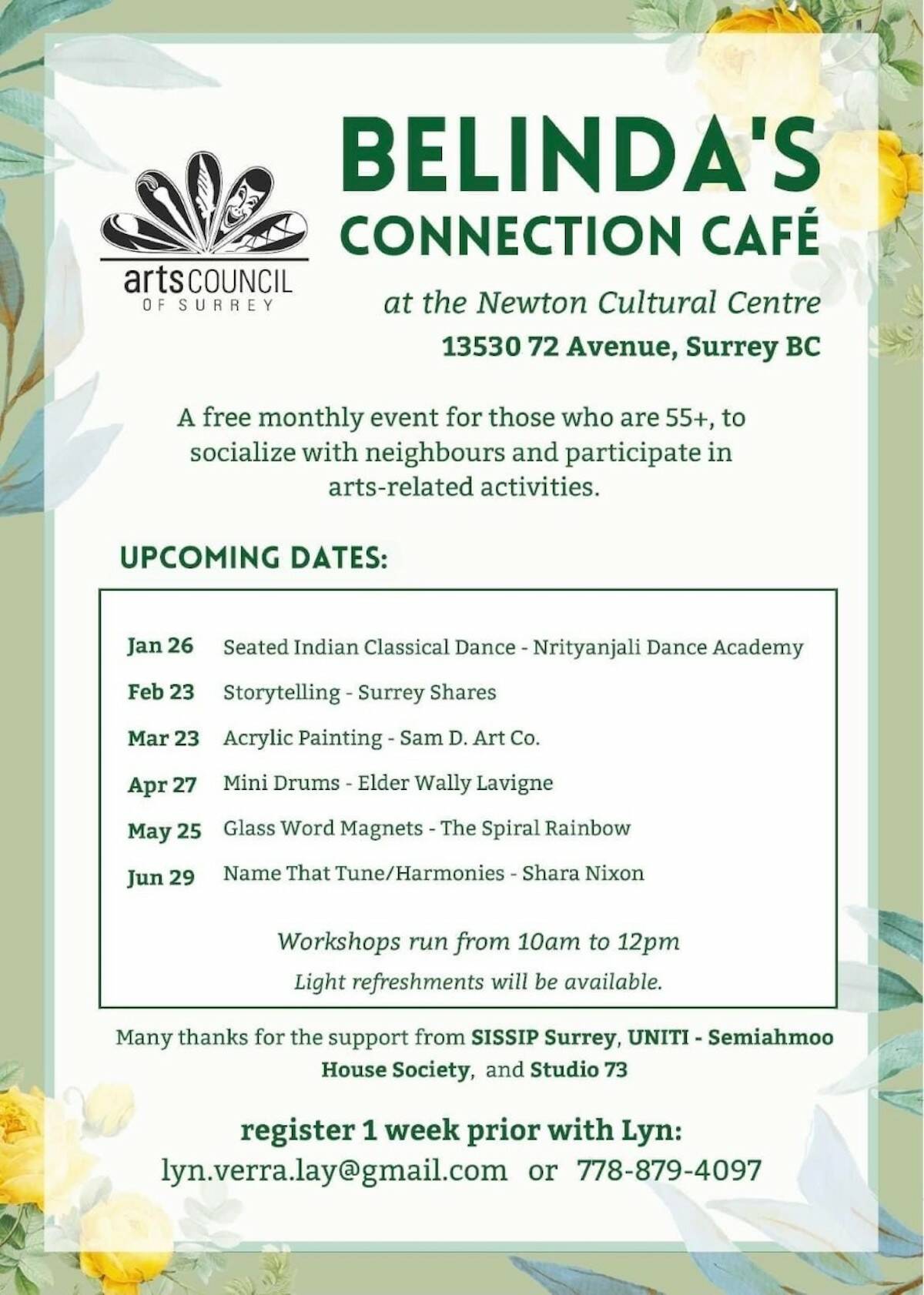 The six coming Café events are Seated Indian Classical Dance with Nrityanjali Dance Academy (Jan. 26), Storytelling with Surrey Shares (Feb. 23), Acrylic painting with Sam D. Art Co. (March 23), Mini drums with Elder Wally Lavigne (April 27), Glass word magnets with The Spiral Rainbow (May 25) and Name that Tune/Harmonies with Shara Nixon (June 29).
It's best to register for the events at least a week ahead of time, by email sent to lyn.verra.lay@gmail.com, or call 778-879-4097.
"One of my favourite parts of this, beyond getting seniors together and connecting them through art, is being able to curate all the sessions," Verra-Lay said, "and that has allowed me to connect with new people in the arts community myself, personally, to get more people connected to seniors and to the arts council, Newton Cultural Centre, and also to myself.
"I like to think we've done a good job in making these workshops varied and unique."
Verra-Lay, who in November won the Cultural Ambassador Award from the Surrey Board of Trade for her work with the Arts Council of Surrey, would like to continue with the Café events beyond June, when and if funding can be secured.
"The response has been great so far," she said, "and now we're now just trying to spread the word about the future events we have planned for the first half of 2023."
---

tom.zillich@surreynowleader.com
Like us on Facebook Follow us on Instagram and follow Tom on Twitter